How to Draw Landscape Design Plans
Landscape design drawings can feel pretty intimidating if you aren't an experienced gardener or haven't got the tools and skills of landscape design experts. However, this doesn't mean you can't get involved! In this guide, we've talked about how to draw landscape design plans, and given something of a beginner's guide to this.
We've aimed it at absolute beginners and those who aren't experts in the yard, the kind of people who might struggle with weed removal! The truth is that landscape design drawing doesn't have to be hugely accurate for most home projects. If you are being employed to work on a commercial project then you should probably have the latest software and be up to date with how to draw a landscape plan professionally, but if it is just for your own reference then you can possibly take a few shortcuts.
What is Landscape Design
In basic terms, landscape design is anything relating to modifying or designing the features of a yard or garden, or another outdoor area for either an increase in looks and aesthetic appeal or for more functionality. Or both.
A landscape designer is generally someone who plans the design of outdoor spaces such as gardens. Landscape design is a profession and there are some highly professional landscape design experts out there. Our basic guide is merely a starting point.
How to Draw a Landscape Design Plan
Once again, we want to make sure we've made clear that this is aimed at a beginner, or someone wanting to practice their landscape design at home. Many landscape design principles and rules can be found here.
There are a few steps you should take when drawing a landscape design plan. You may choose to draw out the plan on squared paper or plain paper, it is a matter of personal preference.
If you can get your hands on the original plans for your home, or anything offering a birds-eye view, make a copy of this by either tracing or photocopying. If not, the blank paper will have to do.
Decide on a scale. Do you have a yard that is 20 feet x 20 feet? Maybe you should use a 1cm to 1ft scale to help you to keep everything in proportion. It is vital to understand scale so that you can create a design that is useful. Otherwise, things will not fit when it comes to actually make the changes to the landscape.
Measure things. A lot. You may even need a hundred ft tape measure to measure the length and width of your yard.
Draw in existing features that are going to stay. You need to measure these too and stick to the scale. For instance, a patio might be staying. Measure this and use your scale to replicate it on the drawing.
Create multiple copies at this stage. There's always a chance of something going wrong and having more than one copy will allow you to fall back on your original landscape design drawing.
Start planning. You can plan beds of plants, even outdoor furniture. Use the measurements on product descriptions to see if they will fit and where. Use a pencil as you never know when you may want to change things. You might even want to cut out shapes using your scale and play around with positioning before committing them to your landscape design plans.
You can use software for landscape design drawing too. If you are technologically inclined this may well be a decent option.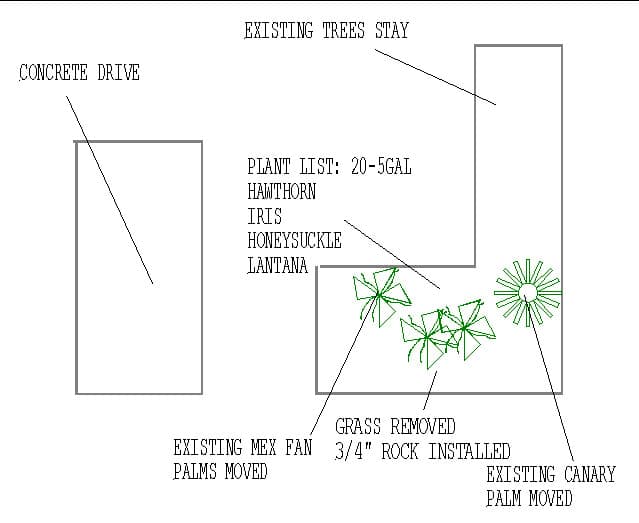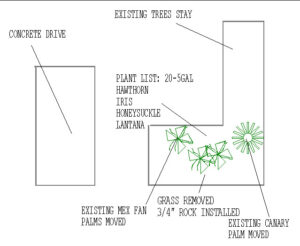 Types of Landscape Design
When learning how to draw landscape design plans, you will realize pretty early on that there are some different types of landscape design. You can use the work people have done on these types to help when creating your own. Knowledge is power.
Types of landscape design include Xeriscape design to maximize areas where there isn't a lot of water. The oriental design uses lots of water features and rocks, and an English Garden where the outer walls of your home are included in the design. Formal and informal design are also types and categories you may hear described. Formal means more uniform planting and symmetry whereas informal is a bit more of a scattered design. It has a more casual feeling and is perfect for unusual backyards or for the casual gardener who doesn't want to be too precise.
https://cactilandscape.com/wp-content/uploads/2019/10/charles-qF1PhG-59pE-unsplash.jpg
1000
1500
Nathan Utter
https://cactilandscape.com/wp-content/uploads/2018/02/logo-cactilandscapes.png
Nathan Utter
2019-10-22 11:55:01
2023-04-18 08:30:21
How to Draw Landscape Design Plans