Curb appeal is the look of your house from the outside, what guests and neighbors see. Having a well-manicured front yard is not only about making a good first impression when people come up to your door or pass by, but curb appeal also increases the property value of your home. The key to front yard landscaping in our Las Vegas valley is to create a yard that is low-maintenance and requires low water usage, while still being inviting and attractive. How do you create a front yard that looks beautiful throughout extended dry spells, extreme heat and infrequent rain?
Here are 5 ideas for developing desert-friendly front yard landscaping:
1. Light it Up
Lights are a practical and attractive way to add variety to your front yard. Take advantage of the abundant sunshine and use solar lights that soak up the sunlight during the day and then glow as they change colors once the sun goes down. Best of all, they don't require an ounce of water to maintain.
2. Rock Garden Entrance
Front yard landscaping can be accentuated with a rock garden entrance. Use pavers as a walkway and accent with shrubs, succulents and desert trees along the sides.
3. Desert trees
Planting a couple of desert tress are a way to add some natural shade while giving a lush feel to your front yard landscaping. Desert trees are tolerant to desert climates so they will not overburden your water usage.
Some lovely tree types native to desert climates are:
Phoenix Mesquite
Sisso Tree
Willow Acacia
Shoestring Acacia
Mulga Acacia
Museum Palo Verde
Blue Palo Verde
Palo Brea
Ironwood
Texas Ebony
4. Non-plant Materials and Adornments
Patio brickwork, tile, decorative rocks, gravel, small boulders, fieldstones, pillars and sculptures make functional, low-maintenance features and ground cover that add variety and dress up a front yard. When you intersperse these with native plants, desert trees, and drought resistant grasses, it creates a well- balanced, eye-catching scene.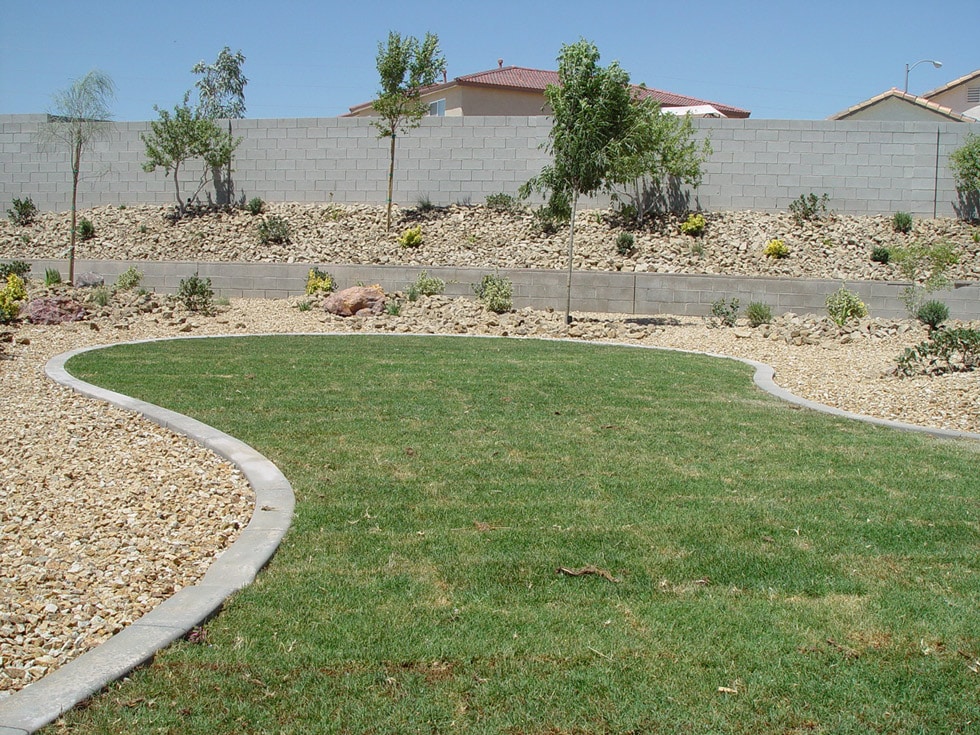 5. Add Color
There are few things that make front yard landscaping pop like patches of vibrant color. A mix of perennials and annuals make a nice combination to liven things up.
Plants that introduce abundant color to your front yard while blending with our southwestern climate:
Perennials
Blackfoot Daisy
Firecracker Penstemon
Parry's Penstemon
Jerusalem Sage
Mexican Hat
Chaparral Sage
Autumn Sage
Moss Verbena
Hummingbird Trumpet
Annuals
Mexican Golden Poppy
Blanket Flower
Maximilian Sunflower
Arizona Poppy
Red Flax
Blue Flax
Desert Bluebell
Cherry Red Sage
Moss Rose
Five Spot
Shirley Poppy
Zinnia Profusion Series
You can, and should, have it all—a front yard that catches the eye of neighbors and guests but is suited to our Las Vegas desert climate. Practical landscaping doesn't have to be dry or boring. There are so many ways to create front yard landscaping with appeal that will be the envy of your community. Our Las Vegas landscaping professionals at Cacti Landscapes can help you design and construct a front yard that is functional and fabulous!