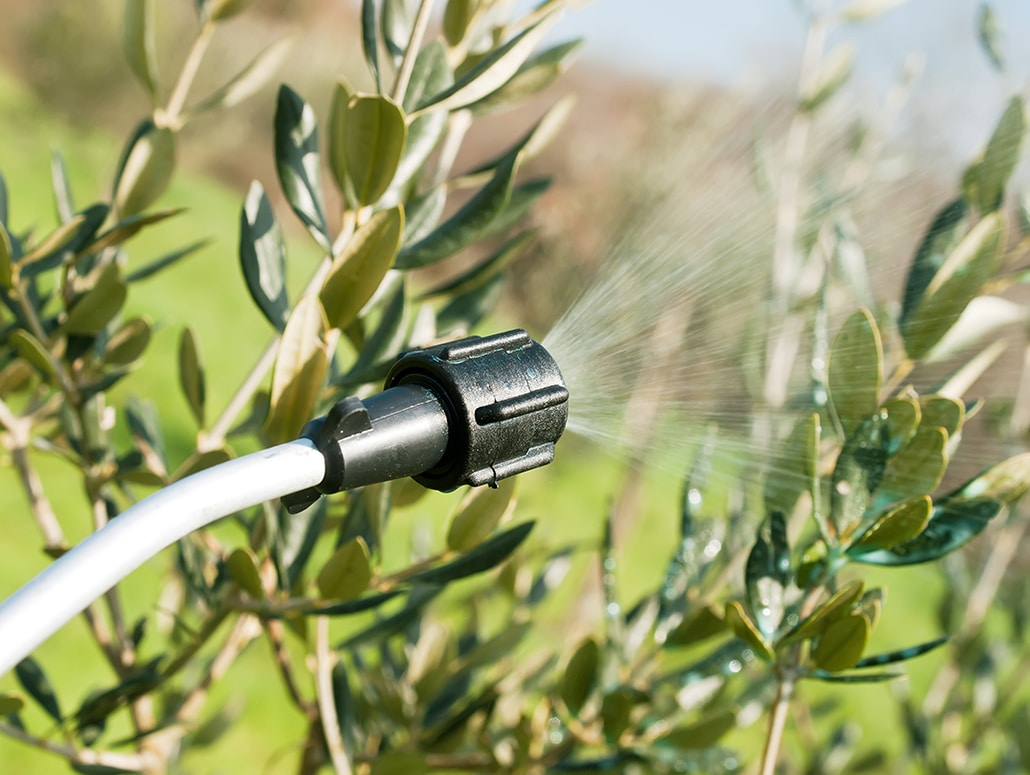 Why You Need Our Olive Tree
Care Company in Las Vegas, NV
If trees are not sprayed and properly taken care of throughout the year, they may create a huge mess and cause further issues for property management companies and maintenance services. When trees are not sprayed, the growth rate of the fruit is exponential, leading to a higher risk of the trees being weighed down and fruit falling off.
Fruit from trees often falls before it gets harvested, so what's the big deal? Olives contain a staining pigment and are incredibly high in oil, resulting in quite a mess if the trees drop their fruit. This is why having a quality olive tree care service in your back pocket is key. It's important to be conscientious and attentive to the upkeep of these trees and know the benefits of olive tree spraying, and that all starts by contacting our tree spraying company in Las Vegas, NV.
TIPS FOR TREE SPRAYING IN THE LAS VEGAS VALLEY
Spraying olive trees with a growth regulator at the right time of year will enable you to enjoy the tree at its best and avoid a mess. Our tree sprayers are best equipped to handle the duties needed when keeping olive trees clean and secure, but we know some homeowners like to DIY or know what to expect during the process. Here are some tips from the pros at our tree spraying company in Las Vegas, NV.
Olive trees only need watering once a month. In order to increase their longevity, it is important to maintain and spray these trees accordingly. Using a growth regulator on olive trees will not completely wipe them off their fruit, but it will add to their overall upkeep and decrease the chances of branches breaking or fruit dropping due to too much production. If you're unsure about any of these steps, don't forget that you have one of the best tree spraying companies in your backyard, so don't hesitate to contact Cacti Landscapes!
Why Do Olive Tree Leaves Fall Off?
Olive tree leaves fall off for a variety of reasons. They can be victims of their own life spans but also suffer from poor lighting, low temperatures, and little to no water. Healthy leaves are a key sign of a healthy tree and are important to helping homeowners prevent difficulties with olives during the warm months. Let's explore why your olive tree leaves are starting to give way.
Olive trees need as much light as possible, and there's never a limit to how much sunlight olive trees can take. Give trees as much as six hours of lighting while planting them in southern-facing parts of your home.
Your olive trees will completely stagnate under cool temperatures, especially the younger they are in the growth stage. If your leaves are shedding in the winter and the leaves look fresh and green, it's an indication that temperature is the problem.
Our tree spraying company in Las Vegas, NV, promotes the importance of providing water to your olive trees. Dehydration is a common cause of the loss of tree leaves and is usually identified when trees turn yellow and wither away as they fall.
Olive knots are bacteria that grow from olive trees due to cracks or wounds. Olive knots can dehydrate trees (even when they're getting proper water amounts) and can grow as much as 2 inches in thickness.
Olive trees naturally shed their leaves when temperatures dip, and sometimes falling leaves are just a result of natural causes. Eventually, they'll grow back in the spring, so homeowners experiencing a cold winter shouldn't automatically panic when their leaves give way.
Get the Most Out of Your Olive Trees With Cacti Landscapes!
At Cacti Landscapes, the most important thing we do is provide premium landscaping service for homeowners far and wide. That includes in-demand services like plant and weed control, or being the premier tree spraying company in Las Vegas, NV. No matter what you need from us, residents in North Las Vegas, Henderson, Summerlin, Anthem, and Green Valley all can enjoy the benefits of our offerings. Contact us today to learn more about all our services, including:
Olive trees are iconic to the Las Vegas area, so why not get them serviced by the pros? Contact Cacti Landscapes today and get olive tree services that reinvigorate your trees and yard!
"(Required)" indicates required fields