Welcome home or to your new home in Las Vegas!
You look at your yard (or lack of a yard) and think" it is time to fix things up. Or even better – you have just bought a new home and you have 90 days to finish the backyard or you are getting penalized. After the stress and cost of moving into your new home you need blinds, furniture, and now landscaping. And landscaping is not cheap in most cases.
Here at Cacti Landscapes, we want to make your life a little easier.
Cacti Landscapes' owner Bret J Utter has been doing landscaping or maintenance in Las Vegas for more than 20 years. He started mowing lawns when Las Vegas used to have a lot of grass back in 1992. He has learned over the years the right and wrong ways of doing things.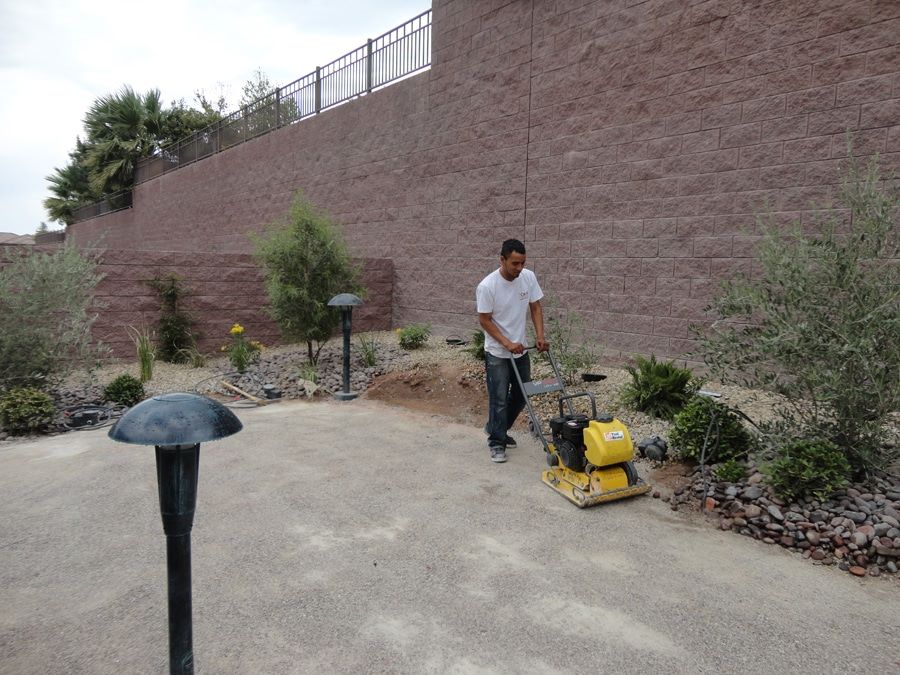 People believe that landscaping is an easy thing to do; and can be – in other parts of the country – but not here.
Las Vegas has harsh climates and really bad soil. Our climate changes from cold to windy in the spring, too hot in the summer, and back to windy and then cold in the fall. The ideal time for plant "growth" is a very short window in the spring and fall. Another problem is the soil: it is the worst you will find anywhere. About 60% of the plants and trees in the local nurseries will not even survive in this area.
Does anyone tell you this? Well, they should.
And that leads me to the landscapers in Las Vegas.
You need to be very careful when hiring any contractor in Las Vegas, but especially the landscapers. People think they can get some tools and some labor and start landscaping. I have seen it time and again – they last a season or two and they are gone.
Or, better yet, they just change the name of the company and keep going. Especially after the recession of 2008 many of the companies you see are the same guys with different names.
We take great pride in our company and take nothing for granted. We made it through the downturn and are going strong.
Just the other day I went to a home for an irrigation check. We advertise that we will evaluate your irrigation system or drip system for only $40. We will let you know what the cost of repairs will be in the future and the timeline for your drip system or plants will be down the road. I went to this home and went around the property checking the drip and even repairing another landscapers mistakes from a week ago. The homeowner was so happy and could not believe that the other guy had put the valve back together wrong. He then starts to complain about the $40 charge and says how could you charge me $40 for only 20 minutes of work. I tried to explain to him that first it is in all of our ads, we clearly fixed what the last guy couldn't fix and left you with the future costs that we know are coming. If you would have called on one of our competitors it would have been $40 to come to your door and then another $40 for the first half hour and maybe they might have fixed it but they would have never told you the future expenses you will be looking at down the road.
The moral of this story is: When you hire someone who doesn't know what they are doing it will cost you so much more in the long run.
Here's another story (because I like to tell these stories and hopefully you like to read them and learn something new).
A man calls me to do an estimate for him because he is out of state. So I go to his home on the set time and day we agreed on. Once I arrived I found another guy – an unlicensed contractor with a shovel and a truck – doing the project already. I called the owner to ask why he had not at least called me to cancel the appointment so I didn't waste a trip in coming out to his property. He didn't seem to care and said he hired the guy 3 days prior.
The moral of the story is he should have done some more homework instead of going with the first or cheapest guy he could find.
I am not exaggerating when I say the front yard was the worst I have seen in a long time. The worst materials and the worst workmanship I have ever seen were being installed to his property.
Just think of how much money he wasted and how long it will last. Probably not very long.
So what do you look for when you hire a landscaper? I would verify the contractor license first and then look for honesty, creativity, and promptness. Are they on time? Do they have the same ideas as you? Ask them many questions to feel them out.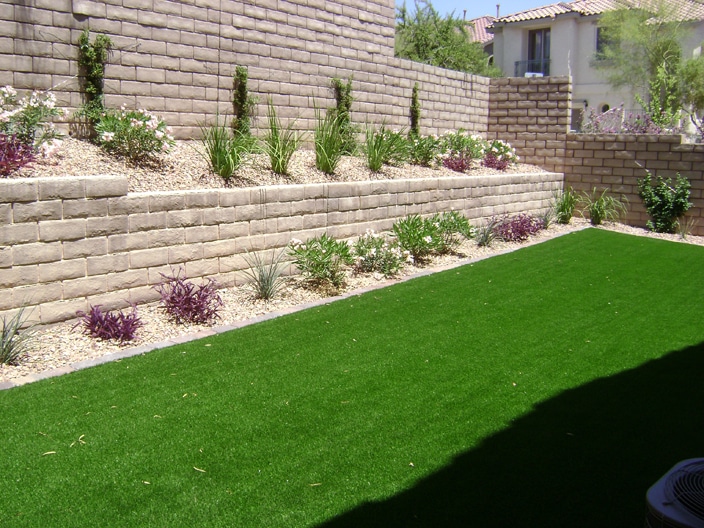 They should be able to tell you which plants do well and which do not.
Almost all landscapers will try to get you to install Carolina Cherry, Queen Palms, Australian Bottles, Japanese Blueberry, Cypress and my favorite Japanese Privets. They all look great at the nursery and do well in California, but will not do well in Las Vegas.
Also, a lot of plants in Las Vegas will not tolerate the heat and will not flower that much. Unless you want to stick with real desert or cactus looks you need someone who knows what flowers a lot or uses a contrast in colors so that the landscape is vibrant.
One plant landscapers love to use is the Iris or Day Lilly. They just don't flower a lot here unless you have large shade areas under trees for them. You must substitute for better things that adapt.
When you get an estimate the bids should be about the same price. Also, never give large deposits.
We ask for a $100 deposit to schedule or do a 3d drawing; unless the project is large in which case we don't ask for much more. If a landscaper is asking for any more than $500 deposit there is already a problem. Is he new or does he have no money to fund the project?
When we do your project we get in and get it done. Some companies that are not well run might start it one day, come back 3 days later and so on. This only starts the ball rolling with problems. The only way in this business to turn a profit and finish a job in a professional manner is to get in and get it done.
Finally when choosing a contractor please be careful. It is an investment and large one in fact. It should enhance your property. If you don't have the funds to get something done correctly then save your money until you are ready. And maintain it. Too many jobs we do, are destroyed by pets just after we leave. Enjoy your yard and have a great time in it.