When done cleverly, backyard landscaping in Las Vegas and Henderson is a great way to create a nice-looking, low-maintenance yard suitable for our Southern Nevada desert climate. Avoiding lawns is key since the water and upkeep required to maintain a grass lawn can be costly. There are plenty of unique and beautiful DIY ideas to landscape your backyard on a reasonable budget.
Here are a few tips on backyard landscaping without breaking the bank:
1. Use Plants Local to the Area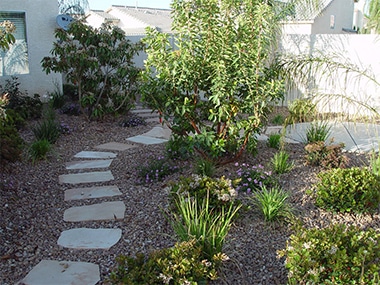 Plants native to the desert Southwest will look best because they will be in their ideal growing conditions. They will also be cost effective since you won't need to purchase expensive fertilizers. Choose plants that do not require a large amount of water, and plant them in thick bunches to create a lush feeling.
Common desert plants include: sage, mesquite, yucca, bottle brush, aloe and agave. Ask at your local nursery about plants that will grow easily in your area, they are always happy to help.
2. Cactus Garden
A classic desert cacti scene in the Southern Nevada region is an economical landscaping idea. First, lay a foundation of sand-colored pebbles. These are only to form a base, so you can buy the cheapest ones. On top of the pebbles, plant several types of cacti scattered throughout the yard. To add flair and character to your yard, add a few finishing touches—a small Western sculpture, a few desert animal figures or perhaps a wood carving.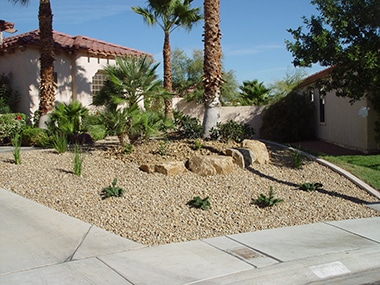 3. Rock Art
If you want to reduce costs and maintenance even further, rocks are an inexpensive, desert-friendly landscaping option. Start with two colors of small pebbles. Next, map out a design in your yard using chalk. If you are not the creative type, Pinterest has tons of Las Vegas desert landscaping and gardening ideas. Finish by scattering large boulders around the yard, having a couple cross the boundaries between the colored areas for visual variation.
4. Dry Stream
A dry stream bed will not require much modification or many supplies. Map out a spot on your yard for a small twisting stream—giving it beginning and end points. Fill out the area with river rocks or, any type of medium-sized rock if they are too costly. Finish with a couple of large boulders on the stream banks and a small bush next to each rock.
Whether you just moved into a new home and need to decorate on a budget or if your yard needs a facelift, there are a number of ways to landscape your backyard with limited funds. Our backyard landscaping Las Vegas design and maintenance professionals at Cacti Landscaping are happy to answer your questions or assist with designing and creating landscapes for your yard that will complement our climate and your lifestyle.