The second most populous city in Nevada, Henderson is located in the southeastern end of the Las Vegas Valley. While it shares many similarities with it's larger neighbor, the city has distinct differences in climate and elevation. These differences are important to understand in order to properly manage yard maintenance in Henderson. Don't settle for a landscaping company that applies a one size fits all approach to all yards in Southern Nevada. Choose a company with experience in the unique differences required to keep landscaping healthy and lush in Henderson.
Since it's incorporation over 60 years ago, Henderson has grown right up to the boundaries of Las Vegas. It is difficult to tell where one city ends and the other starts. As a result, Henderson is usually lumped together with larger Las Vegas. It is however, its own unique city with a local government and separate police department.
Volcanoes and Lakes in the Desert of Henderson
Henderson's average elevation is higher than the city of Las Vegas. This comes from a landscape that includes more hills and mountains. Henderson also includes extinct volcanoes which erupted millions of years ago. This gives some areas black rocks and volcanic soil. When maintaining landscaping in areas with a high concentration of volcanic rock, it is important to understand the benefits and disadvantages for plants in this type of soil.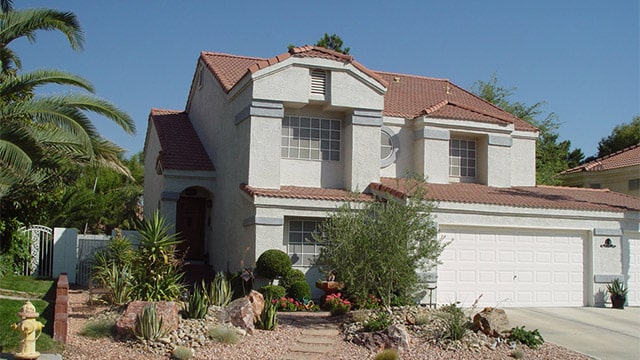 Despite it's name, Lake Las Vegas is located within the city of Henderson. The 320 acre man-made lake is the centerpiece of a nearly 4,000 acre master planned community. This large body of water has a transformative effect on the climate of the community. Henderson landscape architects are able to take full advantage of the water's stabilizing effects on the temperature and increased air humidity in this neighborhood.
Like the rest of Clark County, Henderson has a hot and arid desert climate. Keeping yards healthy requires the proper balance of efficient irrigation systems and well designed shade. Many Henderson residents chose low or zero water landscapes to reduce their dependence on irrigation during the hottest months of the year. Creating beautiful and lush xeriscapes requires experience and skill in the specific needs of Henderson landscaping.
Rabbit Colonies in Henderson
South of Henderson is hundreds of miles of undeveloped land between Las Vegas and the California border. As the city has expanded, wildlife has increasingly been found in residential areas. Henderson contains several areas within the Las Vegas Valley where rabbits are a common sight in home and commercial landscaping. Populations of rabbits also live in many of older parks in the area. If you have noticed rabbits in your yard, make sure to alert your landscaping company. Depending on the type of foliage you have, it may be necessary to "rabbit proof" some of the plants.
If you have more questions about maintaining green and lush landscaping in Henderson please don't hesitate to contact us.