Best Ways to Prepare Your Backyard for Winter
As wintertime approaches you might want to start to think about how you can keep your home and backyard in the best condition even as the weather takes a turn for the worse. There are a lot of things you can do to prepare for the winter. Some of them are designed to keep the home in good condition and ensure that when the spring rolls around your home hasn't suffered.
There is a lot of lawn and garden care that can be necessary, from cutting the grass before winter to preparing perennials for winter. We've addressed loads of the ways you can prep gardens for winter in this guide to landscaping maintenance through the winter months.
Clean Pavers
The paving slabs in your yard can be susceptible to the conditions in the winter. The mud can be a big issue! As the wet and snowy environment creates mud and dirt it will likely get left on the pavers. Clean these with pressure washers for the easiest process.
Lawn Care
Yes, the lawn still needs your attention through the winter. Go through your normal lawn care routines and utilize lawn feed even in times when it gets cold. This will mean a far better lawn in the future, and you won't be trying to salvage some sort of garden the following year.
Mowing
You need to make sure you still mow through the winter, otherwise when the spring rolls around the condition of your yard is likely to suffer. Weeds and other unwanted additions can be more of an issue if you don't mow the lawn from time to time through the winter.
Luckily, if you're in an area where there isn't as much sunlight, the lawn will probably grow far slower in these cold months so you may not have to do this job as regularly. Cutting grass before winter is not the most attractive job, it may well be very cold out there, but you'll be delighted that you did.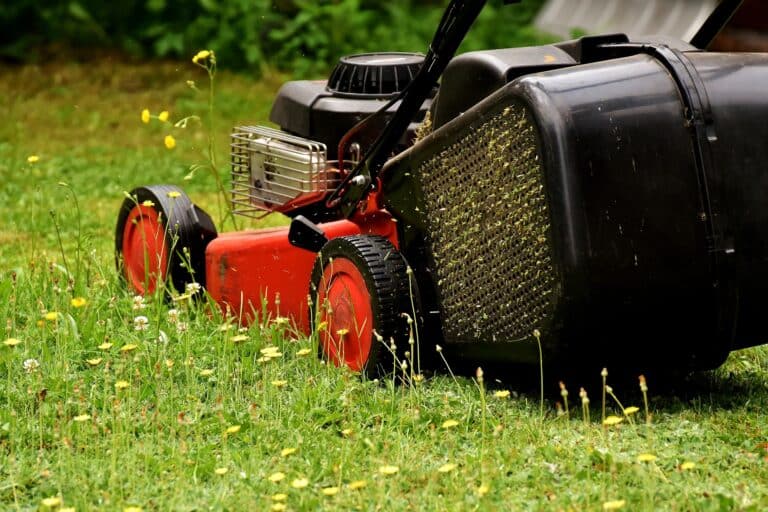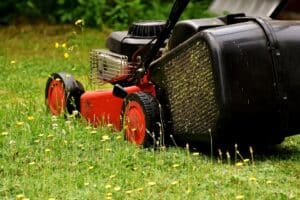 Aeration
Strictly speaking, aeration doesn't have to take place in the wintertime. However, aerating the turf involves plugs in the soil, and these don't feel good to walk over. This means that it's worth doing in the fall or start of winter because you won't be walking on the turf as much. Manual aerators can be bought online and these are a lot of work, but you can get power tools for this job, too.
Fertilization
This is another job you'll be glad you did before the winter. Knowing when to winterize lawns can be tough, but the earlier you can get to it in the winter, the better. The turf needs to be kept as strong as possible through the winter months. Fertilizing is quite a tough job and you should make sure that when you are looking into preparing the lawn for winter you should make sure you are using the right fertilizer for the zone and area in which you live.
Perennial Weed Control
It is important to think about preparing perennials for winter as well. Luckily, perennials will come back year upon year and this means you don't have to worry a huge amount about the need to buy new plants each year. It's far better for your bank balance and for the environment to keep plants alive.
There are ways you can ensure weed control and pest control are carried out through winter, and it doesn't take too much work. Weed them before the winter season and use an organic herbicide as there are perennial weeds too that can keep cropping up through the winter. To properly prep your garden for winter, surround shrubs and perennials with mesh and wiring to stop pests being able to get at them.
Landscape Lighting
Make sure your lighting is plentiful for the winter, especially if you plan to still spend time out in the yard through the winter. It will be likely to get a lot darker in your yard, and with fewer hours of sunlight, you should try and make sure your solar lights are excellent quality, and even supplement them with a few non-solar options.
Furniture
As well as lawn and garden care, you need to think about the other item in your yard. It would be terrible to ignore this and then your furniture gets damaged.
Furniture should be covered through the winter, or stored away, especially if it is made out of materials that are likely to be susceptible to winter conditions. Strong woods may be okay, but generally, a lot of rattan and wicker backyard furniture will be damaged by rain and snow, and fabrics definitely can be! Put these in a place where they are sheltered, whether that means a garage or storage unit.
Pool Heater
If you are lucky enough to own a pool, with a pool heater, it is important that you prepare it for the winter otherwise it can get damaged. A process of "winterizing" means covering up the heater and making sure it is protected from extreme temperatures or freezing water.
Conclusion
If you are looking to prep a garden for winter then our guide will help you a lot. It's vital that you consider the elements and the weather that you are likely to experience. If you live in Canada, your winter is going to be very different from if you live in Vegas, and preparing for winter could be a different prospect entirely.
https://cactilandscape.com/wp-content/uploads/2019/11/winter-670314_1920.jpg
1279
1920
Nathan Utter
https://cactilandscape.com/wp-content/uploads/2018/02/logo-cactilandscapes.png
Nathan Utter
2019-11-20 02:44:39
2023-05-31 06:31:37
Best Ways to Prepare Your Backyard for Winter