As people go through life, change occurs and some may seem beneficial and unbelievably genius while others may not fit a use for an individual. Furthermore, some individuals favor new modern remodels while others don't. Specifically, this guide is for all the individuals that admire and love changes in one's life. Modern landscaping ideas are the solution to transform one's home from an older home to a new, contemporary, and unique one.
Modern Front and Backyard Landscaping Ideas
Currently, modern Las Vegas landscaping ideas are popular around the city. Options for the new and modern Las Vegas landscaping designs involve numerous materials; however, only the best of the best will be mentioned in this guide. As mentioned previously, the new changes take up a vast number but only the top five most essential and beautiful styles will be chosen to be discussed. Trustworthy Las Vegas
landscaping companies will have no issue installing these new landscaping designs into one's yard to make one's home more beautiful. Pavers, artificial turf, water features, furniture, and specific contemporary plants are the most elite modern landscaping designs.
Pavers
When it comes to pavers, the options may seem endless. Sizes and prices vary a tremendous amount and knowing which pavers fit in one's yard the best is entirely indispensable. Ultimately, the pavers that will go into one's yard needs to match the overall home. More modern pavers usually take on the main color of grey but different colors such as white may look better on different homes. Therefore, pavers have been proven to have many unique colors and sizes but, in the end, the specific paver that is picked will have to match with one's home and look harmonized.
To install pavers, there are countless Las Vegas landscaping enterprises that are available in the city to do the job; however, the key is to find an honest and professional company that will guarantee creating one's dream yard. One of the main reasons that pavers are on the top five modern landscaping ideas list is because pavers can match with many other unique landscaping materials such as artificial grass, pools, rocks, plants, and even more. When deciding to pick the pavers as a Las Vegas landscaping option, there are ultimately no downsides and only benefits from this landscaping material.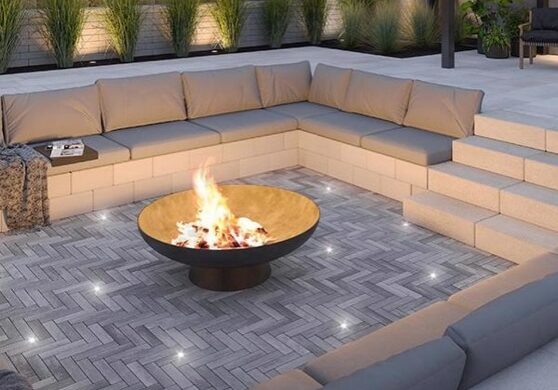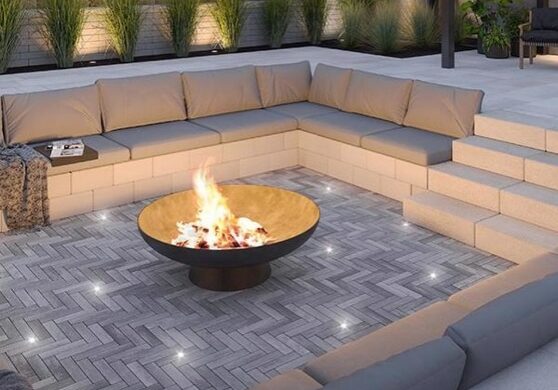 Artificial Turf
Overall, artificial turf is a fantastic choice when picking a Las Vegas landscaping style for modern landscaping. It provides overall beauty to one's yard and has numerous benefits. Some of the benefits that come with having artificial grass include a place for pets to have fun, a place for kids to play, and even more. Furthermore, it lasts for 15-20 years and is a great investment to put towards one's yard that will bring the beauty of one's home up. Hence, there are no downsides and only benefits from having artificial turf in one's yard.
When maintenance is focused on, there are great benefits. Once the turf is installed by a Las Vegas landscaping company, there is no Las Vegas maintenance that is needed later. Only replacement artificial turf is needed but that is every 15-20 years so there is plenty of time that the artificial turf will be used before it is replaced. Similar to pavers, it matches with many other landscaping materials like water features, fire features, furniture, and so much more. Ultimately, when choosing artificial turf as a Las Vegas modern landscaping material, there will be only benefits and more beauty in one's home.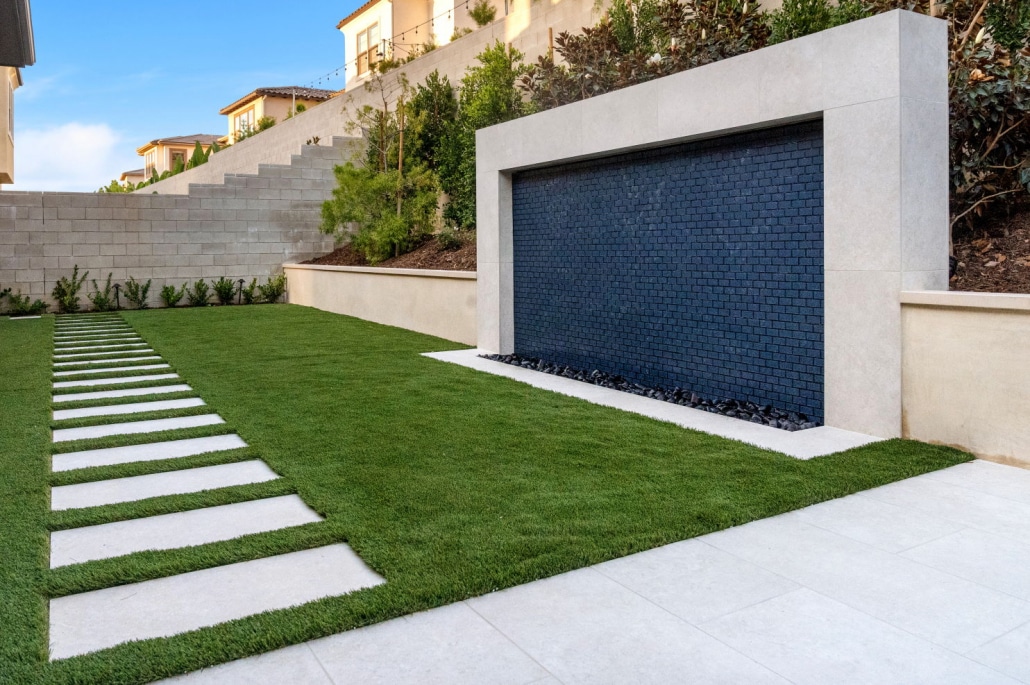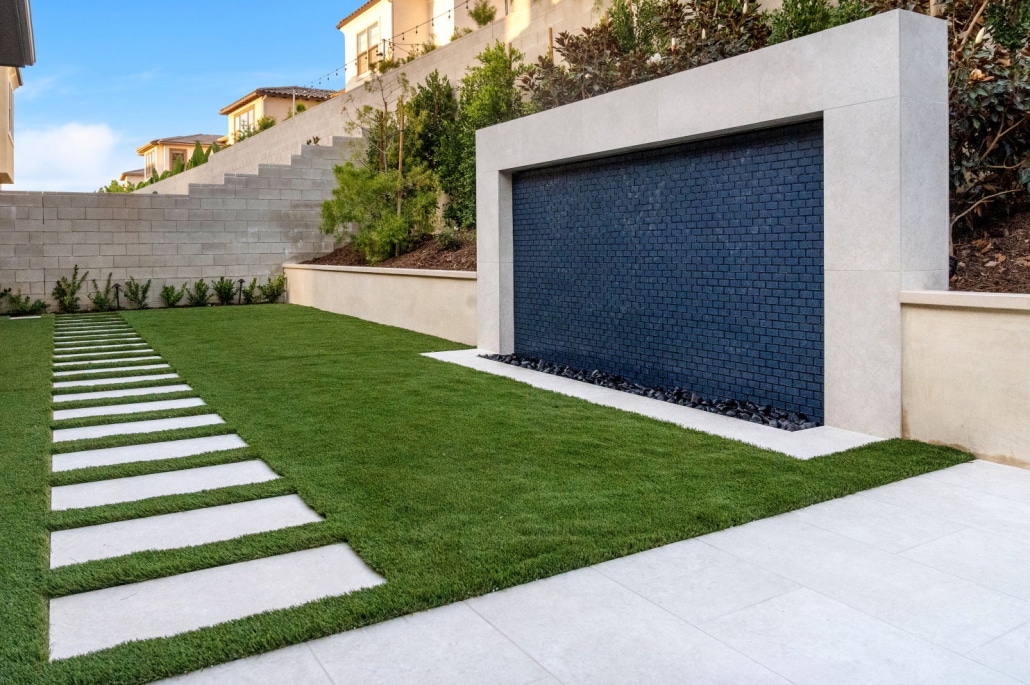 Water Features
When water features are brought into one's yard, there are a colossal number of combinations. For instance, water features involve pools, fountains, ponds, and more. Pools are the most common water feature and look great with all the other modern landscaping materials. Pool companies can aid in installing this specific water feature and will do it with ease. All of the other modern landscaping materials will be put in by a Las Vegas landscaping company and watched over by a landscaping maintenance service in Las Vegas.
For every water feature, there are benefits but also downsides that come with them. Pools match modern landscaping materials and are a place where everyone can have fun, but a lot of maintenance is needed for them. Fountains, after installation, are little maintenance and still bring joy to one's yard. Ponds are similar to pools, in the aspect that a lot of maintenance comes with having one. Therefore, pools, ponds, and fountains are all fantastic options for water features, and making sure to pick the right one that suits one's yard is indispensable.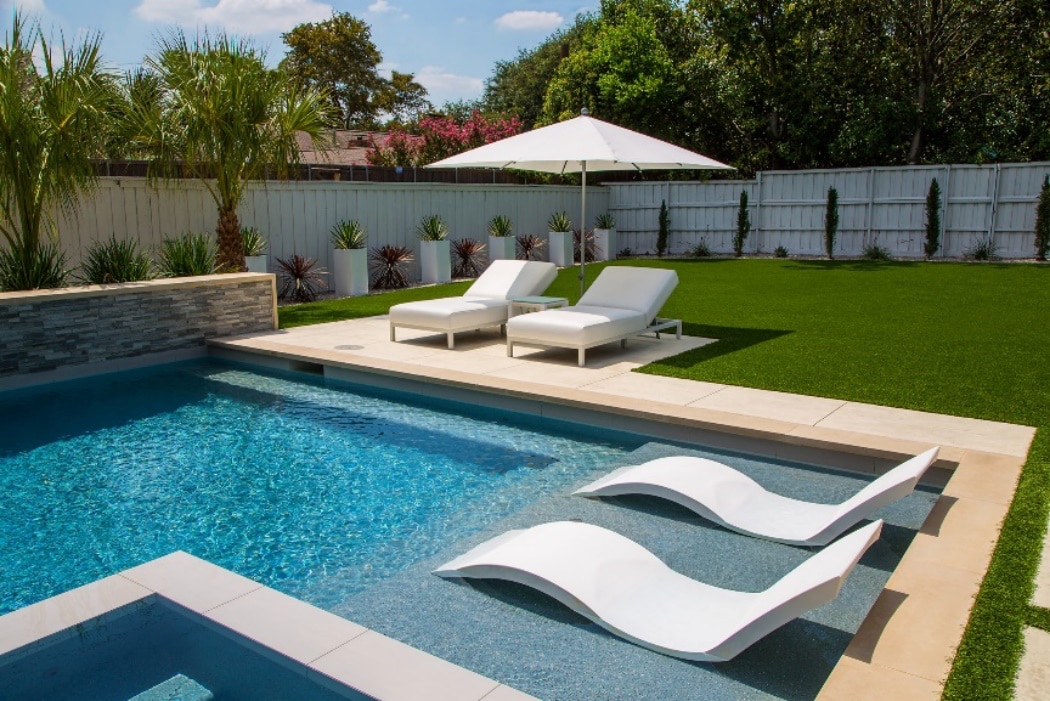 Furniture
Although many types of landscaping require furniture, modern landscaping encompasses a new specific type of furniture. Furniture outside in one's yard usually requires tables and chairs. Tables and chairs bring a sense of unity, especially when with family or friends. The furniture that is indispensable for modern landscaping is contemporary furniture that mainly takes on the colors of white and gray with new unique designs. Hence, contemporary and uniquely designed furniture is the specific type of furniture that will match perfectly with a modern landscaped yard.
When it comes to where furniture can go into one's yard, it can take many places. Furniture is usually on land but could also be in the water as well. Some of the furniture that could be in water includes the chairs and seats that are on the upper levels of pools. These chairs encompass the modern Las Vegas landscaping look and will suit many needs. Tables and chairs that are on land in one's yard can also meet the modern landscaping look and will make parties more fun. Ultimately, modern furniture has been proven to be in many unique forms that will make one's yard more beautiful.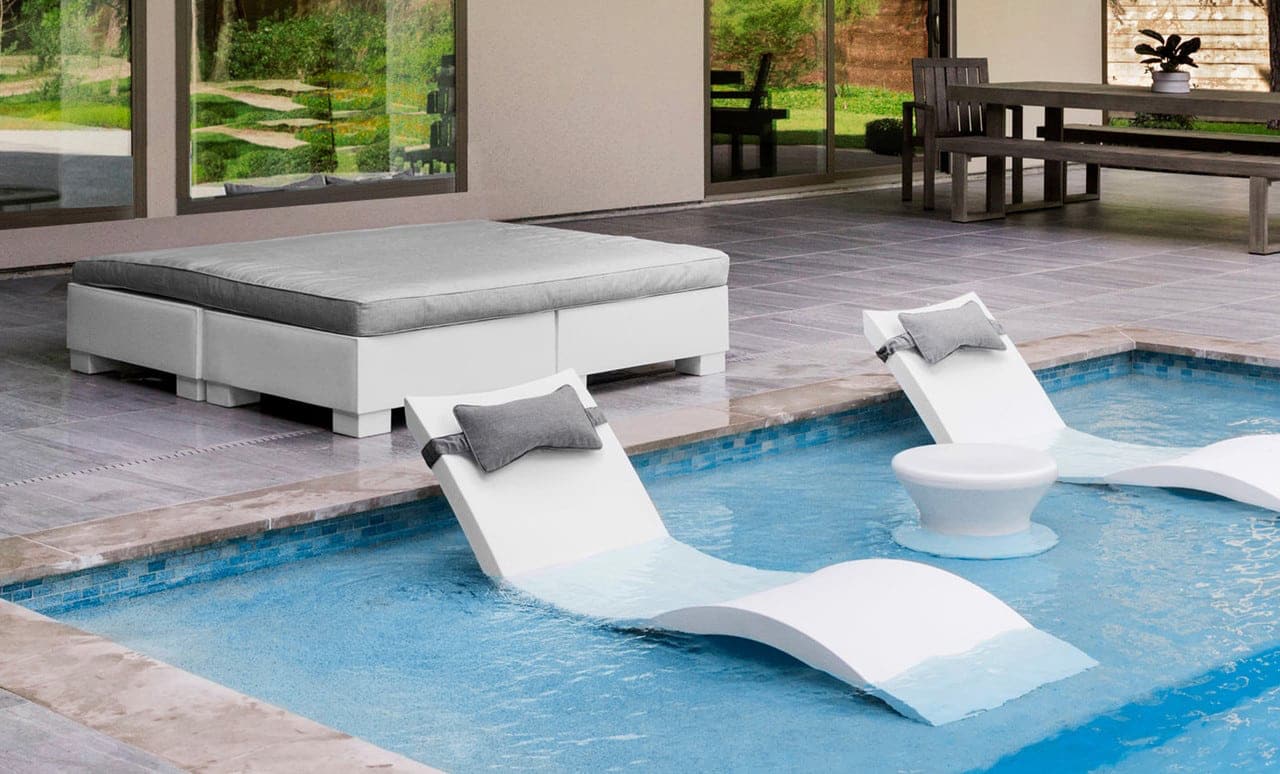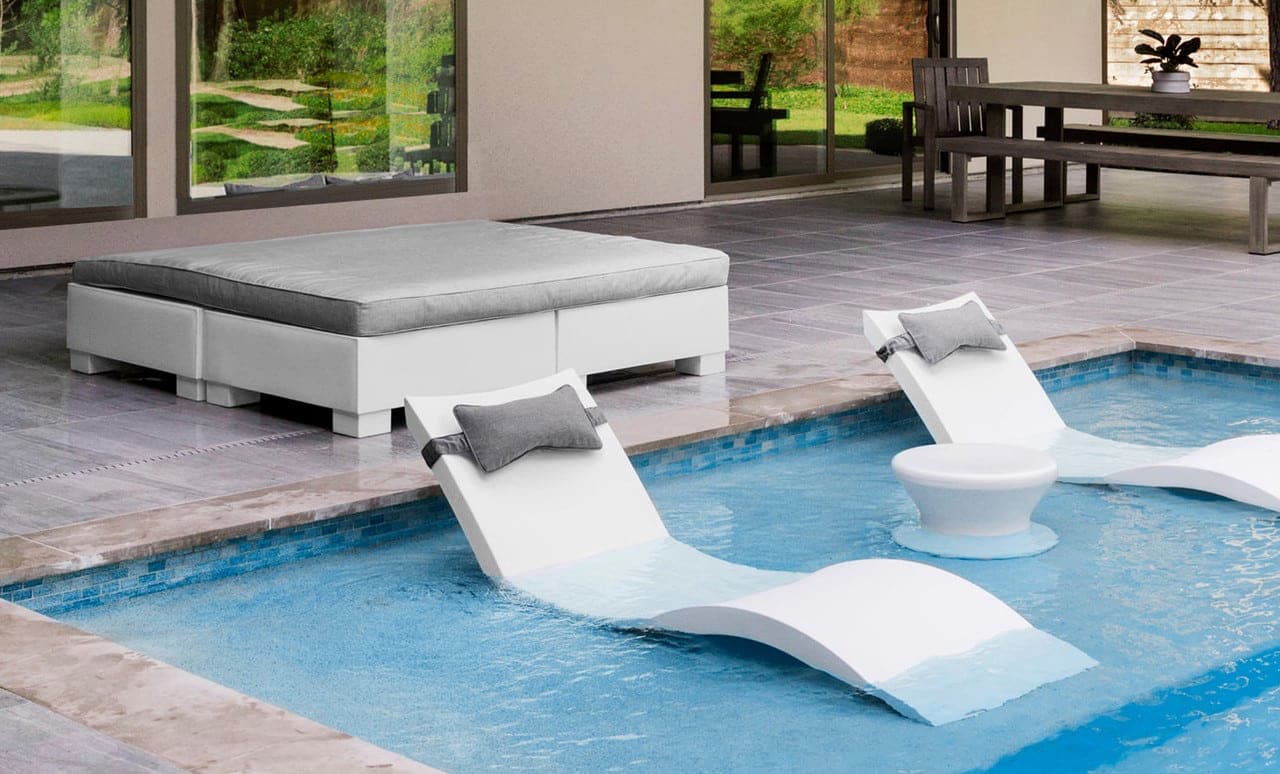 Contemporary Plants
When it comes to modern plants, there is a wide variety; however, there are a select few that rise above the rest. For instance, golden barrel cacti are a stunning contemporary plant that will match the modern Las Vegas landscaping design perfectly. A reason for why this plant is better than most of the other options is because it is of low maintenance. It requires little to no work and looks remarkable all year long in Las Vegas. Another similar choice to the golden barrel cacti is the golden flasks plant. This plant requires little maintenance and will match extraordinarily with one's modern yard.
Agaves are the final choice on the most elite contemporary plant list. Agaves are fantastic because they require little to no maintenance. Once a Las Vegas landscaping company installs it, Las Vegas maintenance companies won't be needed as the plant will look remarkable for all four seasons of the year. The main factor between most modern plants is the fact that the plants are of little to no maintenance. Little to no maintenance makes everyone's life easier and more enjoyable. Therefore, agaves, golden barrel cacti, and golden flasks plants are the most elite choice of contemporary plants. Contact our landscaping experts for a contemporary landscaping solution.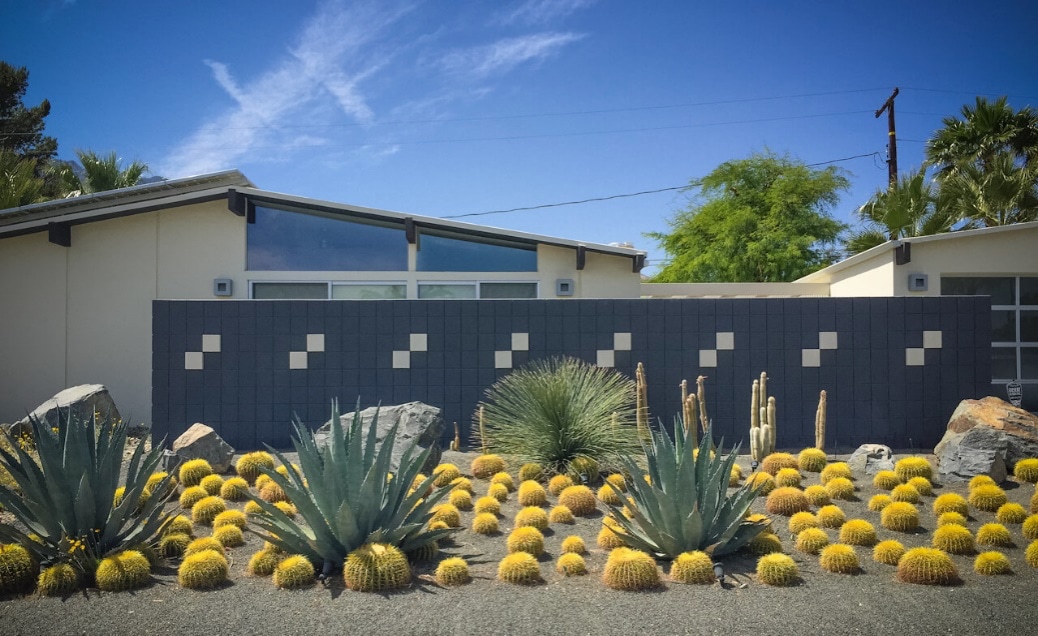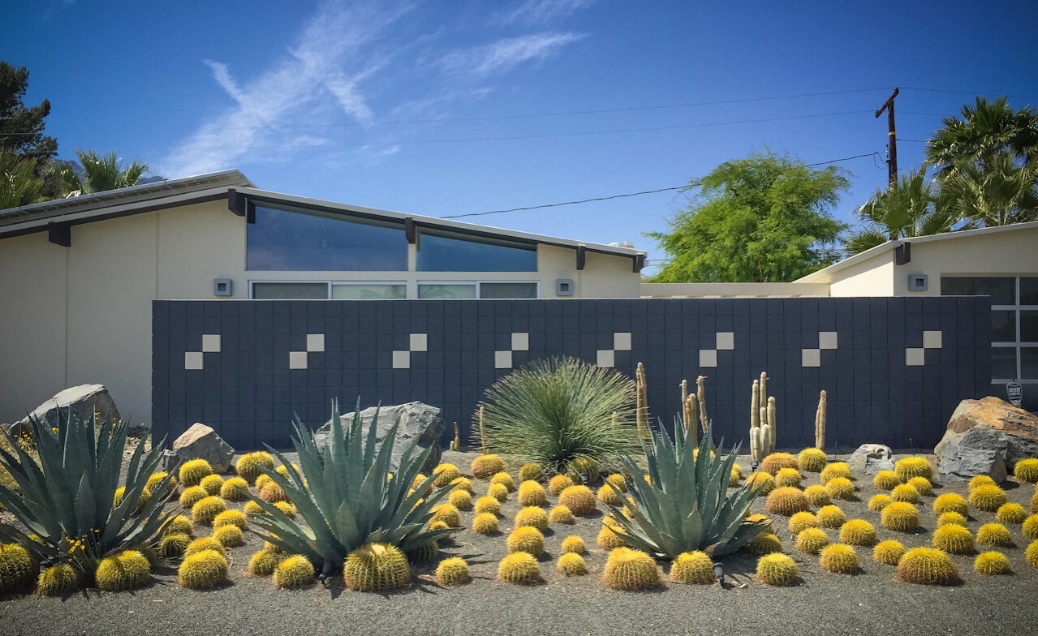 Throughout this guide, all of the different and unique Las Vegas modern landscaping materials and ideas have been discussed. Pavers, artificial turf, water features, furniture, and contemporary plants were mentioned as the most elite options that could be selected to put in one's yard. Ultimately, to make the modern yard of one's dream, these landscaping materials and ideas are indispensable to include.